Local 1400 is celibrating our 56th anniversary of being a member of the IAFF.
56 years ago today, our local received its charter from the International Association of Firefighters officially recognizing us as a part of their union. This was the first day of the City of Chester Professional Firefighters Association, Local 1400. The members who were there when our local began are known as our "charter" members; and these men were very dedicated and hard working. Without them, we wouldn't have the great local that we have today. We would like to honor the men by naming them below: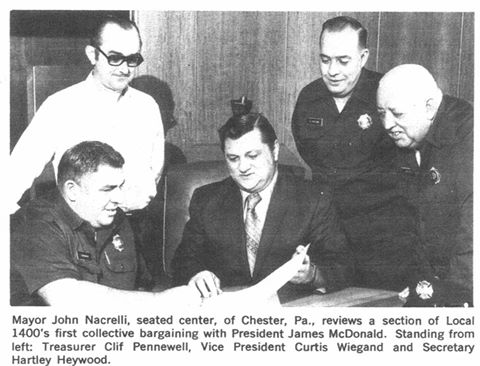 Harry Cornish Jr.
Ed Leamy Sr.
William Sweeney
Herm Dickerson Jr.
Frank Parker
Hartley Haywood Jr.
Joseph Rhoads Sr.
Harold Walker
Thomas Smalley
Charles Gremminger
Lewis Ogden Jr.
George Watson
Peter Minaszak
James Gallager
Charles McClelland
Tonight after the monthly meeting at Widener UNO we would like to invite you to have refreshments in celebration of our anniversarey.
Widener UNO is on the corner of 15th Street and Providence Ave in Chester PA.